Rebuilding Your Credit After Bankruptcy
You've decided to declare bankruptcy. For many people, this was the most difficult step, it is tough to walk away from your debts, but sometimes it is unavoidable. For individuals considering bankruptcy, the main question almost always seems to be: "How will this affect my credit?" The answer: We don't know what exactly will happen. The reason for this is, the credit score companies do not release their formulas for figuring out a person's credit score. However, FICO has shed some light on how their formulas are made up.
What Will It Take to Improve Your Credit Score After Bankruptcy?
While the exact details to figure out your credit card score are trade secrets, the makeup of your FICO score is known.
Here's the breakdown from the FICO website: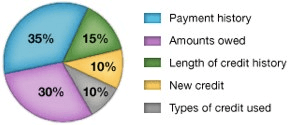 When you declare bankruptcy, the payment history portion of your FICO score will be impacted. However, your FICO score takes into account every piece of information, not simply whether you have declared bankruptcy or not.
Need legal advice? Call Our San Diego Bankruptcy Attorney at
(888) 875-9190

.

For most consumers, declaring bankruptcy will hurt their credit score more than almost anything else. FICO has published the following graph as an example of the impact of "damage points" on a person's credit.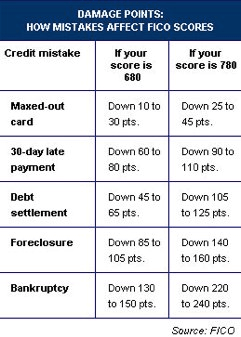 Here are a few things to keep in mind when considering bankruptcy:
Why bankruptcy might be for you – We have shown you how bankruptcy can impact your credit score, but why should you file for bankruptcy if it will impact your credit score so much? Simply put, most bankruptcies will wipe your debts away. While you will take a credit hit at the beginning of the process, by eliminating your debts, your income-debt ratio will drastically increase, which will also increase your credit score.
Rebuilding your credit after a bankruptcy – After you decide to declare bankruptcy, you probably want to try to rebuild your credit as fast as possible. However, you need to first stop and realize what got you into the bankruptcy in the first place. Was it a failed business, too much shopping, or using your credit cards to live month-to-month? The good news, you have a fresh start; the bad news, the bankruptcy will usually remain on your credit score for 7 to 10 years.
Educate yourself – After you declare bankruptcy, you need to learn how to better finance your lifestyle. Many lawyers will provide you with materials to help you take stock of where you currently are and how to create a sustainable financial spreadsheet for your life. Remember, a bankruptcy will stay on your record between 7 and 10 years, even if you are able to raise your credit score up fairly quickly, you need to avoid the mistakes you previously made. You do need to use credit cards in order to rebuild your credit.
Get a secured credit card – An option for many people who have just undergone a bankruptcy is to get a secured credit card. A secured credit card is a credit card that is secured by either the amount of money you have in the bank, or by a tangible item (typically a car or house). However, when you look at the chart above, you will see that maxing out your credit card will hurt your credit score. Remember, do not max out your credit card, and keep it under 50% of the maxed value.
Using student loans to boost your credit score – Because most student loans are not dischargeable in bankruptcy, you will have to continue to pay these loans. However, by making your payments on time and trying to pay more than what is due, not only will you be able to repay this loan quickly, but you will improve your credit score along the way.
Beware any "quickly rebuild your credit" companies – Sadly, there are many companies that will try to prey on individuals who are vulnerable after a bankruptcy. While there are many of these services out there, most of these companies cannot actually help raise your credit more than a few points. However, they will often times charge you exorbitant fees and use every loophole in their contract to avoid paying you back any money that you paid them. This is why it is important to work either with an attorney, or with an established company. An attorney who is licensed in your state has passed certain examinations and must act ethically. The lawyer will be able to lay out some ways to rebuild your credit, and options in regards to the credit reporting agencies.
Contact a San Diego bankruptcy attorney to get the experienced legal representation needed when facing debt problems.
Bankruptcy Made Simple
Start Our Easy, 3-Step Process
Schedule your free consultation and we'll provide you with your bankruptcy solutions.